Lepakshi temple and its mysterious hanging pillar – Andhra Pradesh
Location:- Andhra Pradesh has always been a major state for pilgrimage tourism owing to various temples, historic monuments and shrines in this state. The Lepakshi temple is located in Anantapur district in southern Andhra Pradesh. It is 15 km east of Hindupur and approximately 120 km north Bangalore.
The temple is located on top of a hill that looks like a tortoise shell. hence it is also called Kurma Saila.
Main Deity:- The presiding deity at this temple is Sree Veerabhadra. Veerabhadra is a ferocious form of Lord Siva that came into existence after the Daksa Yagna. Beside this, other forms of Siva like – Ardanareeswar, Kankala Murti, Daksinamoorty and Tripurantak are also present here. The Goddess here is called Bhadrakaali.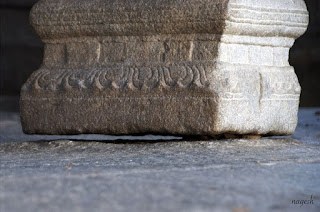 Architecture: – The temple is built in 16th century and is a stone structure.
The most interesting aspect of this temple is the monolith or the Hanging Pillar. This pillar is 27ft in length and 15ft in height and a carved pillar. However, this pillar does not touch the ground. It is a hanging pillar and it is often demonstrated by passing a piece of paper or cloth underneath it. This hanging pillar is the reason why Lepakshi is popular among tourists.
The temple is built in Vijaynagri style. The outer precint has a huge Ganesa statue. Nearby there is a big Sivaling that is emcompassed by a King Cobra sculpture. The deities are all stone sculptures. The temple has various paintings and murals from the Vijaynagar era.
There is a dance hall or NatyaGriha and a Kalyana Mandap (where weddings are held) in the vicinity.
How to reach:-
By Road:- Lepakshi is well connected by road from cities like hyderabad and Bangaluru through
highway NH 7
Nearby Railway Station -Hindupur
Nearby Places to Visit
Dharmavaram