Undavalli,Cave Temples,Andhra Pradesh,Guntur
The Undavalli Cave Temples
The Undavalli Cave Temples stand as a testimony for the fantabulous monolithic architectural wonder which were built in 4th century.It is believed this construction was done based on the architectural principles inherited by the ancient hindu architect Viswakarma(As per the "MahaBharata,the great Epic of india", Viswa karma is believed to be the first and ever architect).These Caves are located in Tadepalli ,a village in Guntur of Andhra Pradesh state in India.There are several caves here but the one with 4 stories cave is the most famous one where we can see Lord Vishnu's a 25 feet long monolithic statue in the form of his recreation gesture.
History and Architecture of the Caves
These caves resemble a combination of the artifacts of Jain,Buddhist and Hindu cultures.Especially the 4 storied cave is a standing example for this.This cave looks like fort when we see from a far vision
But as we approach near we can see the this as a cave with this amazing architectural combination made by GUPTA dynasty.The other storied caves resembles the Jain artifacts which assimilates the architecture of the udayagiri and Khandagiri. We can find here the Jain tirthankara statues,architectural representation of Buddhists as well along with hindu idols of Brahma ,Vishnu and Lord Shiva.We can find the buddhist artifacts which depicts the signs of the stay of these buddhist in this place.All these monuments construction evolved between 4 th century to 8th century.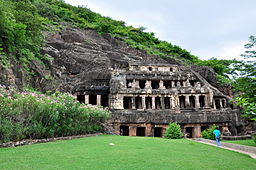 How to reach:
These caves are located in the coastal area  of Andhra Pradesh,Guntur .There are plenty of trains(which covers the entire region of india especially south india and north india)and almost all trains stop at Guntur and vijayawada. Undavalli is 6 kilometers from Vijayawada and 22 Kilometers from Guntur.There are lot of buses available for every 5 minutes. Visiting hours 9 AM to 6 PM. It would be good to watch this place in the evening during the sunset time where we can see the natural scenics from the cave as the surrounding places are covered by Green fields ,Krishna river and the Best time to visit is between the months of October and march.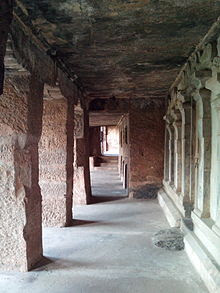 Nearby places to visit: Mangalagiri Temple, Gunadala Hill, Prakasam Barriage.