Ancient Kothanda Rama Swami Temple, Devankudi,Tiruvarur
Devankudi is a quiet village in Tiruvarur district, Tamil Nadu, India on the south bank of the Koraiyar River [a tributary of the Cauvery] and in north east direction of Sri Rajagopala Swamy temple of Mannargudi .
Devangudi village is near to both Mannargudi and Needamangalam.
In earlier times, Devas used to live in this village, so this place had inherited the name Devankudi. As Lord Indra came from Indraloka and worshiped Siva here, Lord Siva of Devankudi is known as Indrapureeswarar. Also Sri Kanchi Paramacharyal had camped here and worshipped this Sri Indrapureeswarar. And the well known Tamil writer, Thi. Janakiraman was born in Devankudi .
In this Devankudi there is a time old Bhajanai Madam which was started in 1909 by Kasi Thatha [who had gone to Kasi kshethram by walk all the way] and later consecration of Bhajan Madam took place on 2.6.1916. Even today Traditional bhajans are regularly & punctually performed by the villagers on Ekadasi and on other special days.
*Among the 10 incarnations of Sri Mahavishnu, Ramavataram is considered to be the most unique and much spoken about . In this Kali Yuga, Sri Rama showers Grace from many of His temples of this country.
Sri Sita Lakshmana Bharata Satrugana Hanumath Sametha Sri Gothanda Rama Swami Temple is here In Devankudi since ages .
This temple is said to have been built during the Pallava kings period and is more than 500 years old. it is said a blind devotee was performing Pradakshinam of this Sri Rama temple and on one day during such circumambulation he suddenly acquired his eyesight . So this Lord Rama derived the name "Gothandarama who gave eyes", "kann koduththa Kothanda Ramar" . On Punarvasu days there had taken place special thirumanjanam poojas..
The steps of Pushkarani [temple pool] were built by the village women of this village . Every Kanu Pongal day [the day after Pongal] they make Chithrannams, eat and enjoy merrily by this pool sides
The temple bell weighing over 700 kgs is unique with inscriptions which when rang the sound of the same was heard to 6,7 villages around, it is said .
The last Kumbabhishekam [samprokshanam] of this temple had taken place in 1942. Over the years, due to weather, climatic attacks this temple is severely damaged. Since few years now, only one period puja is going on at the temple.
Commemorating the auspicious beginning of the Sri Kothanda Rama temple renovation work, Bhoomi Puja was held on 27th September 23.
Below are some photos of Sri Kothanda Ram Temple: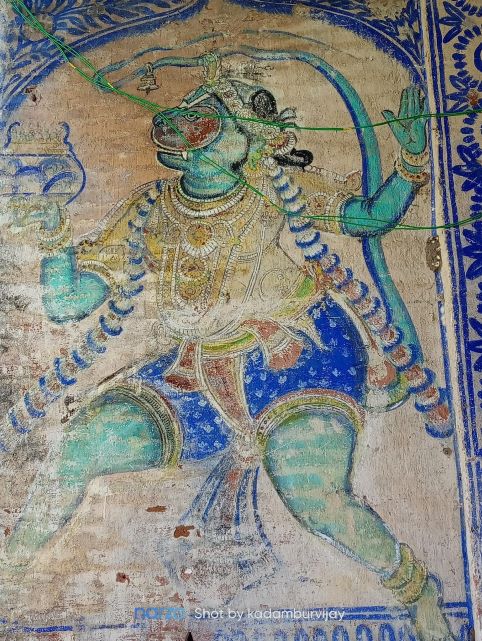 The renovation of this temple , sambrokshanam [kumbabhishekam] is planned to be done by Sri Nama Navami 2024; renovation and repair work are in progress.
For more information/details about this Sri Kothanda Rama temple kindly contact Dr K.S Sundaram @9480173760 or at mail: drsdm23@gmail.com OR K S Gopalan mail: ksgopalan279@gmail.com
We are giving the above information to the world wide devotees of Sri Rama requesting their large financial support.
                            ******